This page is best viewed with Mozilla Firefox No menu at left? Click here
NEWS:

(Januari 2016) On 22 Januari 2016, I testified as an external expert at a hearing of the Foreign Affairs committee of Dutch Parliament, on the possible role of military satellite systems for the criminal investigation into the disaster with flight MH17 over the Ukraine.
Op 22 januari 2016 gaf ik als externe deskundige toelichting aan de kamerleden in een hoorzitting van de vaste commissie BuZa van de Tweede Kamer, over de mogelijke rol van militaire satellietsystemen in het onderzoek naar de ramp met MH17. Een TV item van EénVandaag én een Live radiointerview met EénVandaag hier over zijn te zien en beluisteren hier.
Een geluidsopname van de hoorzitting zelf is hier te downloaden. De position paper die ik schreef voor de hoorzitting vind je hier.

(October 2015) In item "RTL Z Today" op RTL Z over de dichte nadering van planetoide 2015 TB145 "Spooky". Video.
(April 2014) In item in Eénvandaag (Ned. 1) over meteorieten en planetoïde-inslagen. Video
(March 2014) In item in Nieuwsuur over het gebruik van satellieten bij het speuren naar vlucht MH370. Video
(Januari 2014) In item in het Jeugdjournaal over het KNAL!-weekeinde over meteorieten op Naturalis, 18 en 19 januari 2014. Video.
(February 2013) The passage of asteroid 2012 DA14 on Feb 15th and the unrelated super meteor over Russia that same day lead to me appearing Live in a major news show on Dutch National television: Nieuwsuur (Ned. 2). A video (Dutch) can be seen here.

I also was filmed by the local news TV station RTV West: that broadcast can be seen here (starts at 3:40 in the video, in Dutch).
(February 2013) I was a guest in the Radio science program Hoe?Zo! on Feb 5th in a short item about new Neandertal dates in Iberia. An mp3 recording (Dutch, 7 minutes, 7.6 Mb) can be downloaded here.
(Nov 2012) I received the Dr. J. van der Bilt Prize of the Dutch Royal Astronomy and Meteorology Association (KNVWS), for my work on meteors, asteroids and artificial satellites. More details and photographs of the award ceremony here.
(Oct 2012) I was interviewed for an expert opinion for an article in the 2012/11 issue of KIJK magazine.
Older NEWS: click here
This website is now over 12 years old. It is in desperate need of restructuring both in content and shape - if only I could find the time for it....
Meanwhile, here is the old content for you to peruse. But be aware that some parts are dated.
Quick jumps to timely content:
- My professional archaeological activities and my publications list
- My asteroid discoveries
- My satellite observations (blog)
- Webpagina's over de Nederlandse meteorieten
More items (some very dated!) can be accessed through the menu at left
(don't see the menu? Then click here)

Welcome, dear visitor, to my website! Before discussing the content of this website, let me first briefly introduce myself: my name is Dr Marco Langbroek and I am a professional stone age archaeologist. My specialization is in the archaeology of the Early and Middle Palaeolithic.
I obtained my Ph.D. at Leiden University on the dissertation 'Out of Africa: a study into the earliest occupation of the Old World', on October 9th, 2003. From 2008 to 2012, I have been conducting a 4-year NWO-funded VENI post-doc research (see also my website www.palaeolithic.nl) at the VU University Amsterdam (Faculty of Earth and Life Sciences, dept. of Geo- and Bioarchaeology)
Apart from archaeology, which is my profession, I have varied interests in other topics, most notably astronomy. Several of these interests are highlighted on this website (which is in dire need of a rewrite and restructuring, if ever I could find the time to do so....).
I have discovered over 60 new asteroids, including a Near Earth Asteroid. As a member of the Dutch Meteor Scoiety I have been an active meteor observer. I have participated in scientific astronomical expeditions and I am author or co-author to several peer-reviewed scientific papers in astronomy, in addition to my archaeological publications. I am also an active tracker of (classified) artificial satellites, operating Cospar tracking station 4353 (SatTrackCam Leiden). I have a strong interest in meteorites and operate a website with information on the Dutch meteorites.
In 2012, I received the Dr J. Van der Bilt Prize of the Royal Dutch Association for Astronomy (KNVWS) for my work on meteors, asteroids and artificial satellites.
In addition to this I am an avid photographer, including macro photography, landscape photography, cityscapes and panorama photography.

The photo below is solely to keep up the image.... ;-)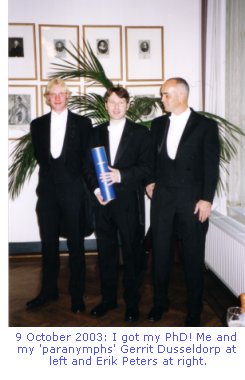 On this website:
On this website you will find some information about my archaeological activities, as well as many of my interests. Pick your choice from the extensive menu at left! You will find an educational page on handaxes, and an overview of the known Dutch meteorites in both English and Dutch (the Dutch version is more extensive and includes Belgian meteorites and the meteorites of the former Dutch East Indies as well).
Many of my current astronomical observing activities (satellites, asteroids and meteors) are detailed on my separate blog.
Nice pictures including scenic views of the Gobi desert and Arizona are to be found in my Travel & Adventure Picture Gallery, while some attractive photographs of comet & meteors and other celestial phenomena such a satellites and Northern lights can be found in additional photo galleries. There is a slide show of my pictures of beautiful Leiden town, and a page with my panorama photographs. I hope you'll enjoy browsing my pages.
For a larger version of this panorama, click here
Slideshow of some of my 2007 photographs: